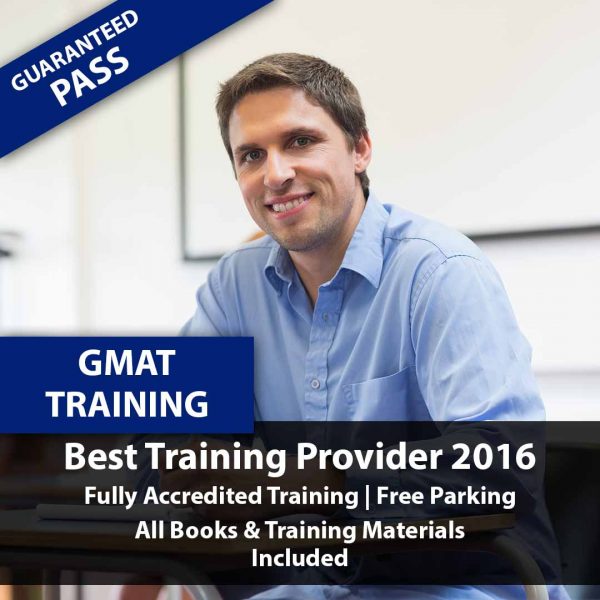 GMAT Preparation Courses (25 Hrs, 10 Sessions) Evening Class
10 Sessions with a 99th Percentile GMAT Expert Trainer
7pm – 9:30pm
Small Class Sizes, 1 to 1 support as required
We Guarantee you will get 600+ on your GMAT, if you don't you come back for further training at NO COST
We provide everything you require to complete your training
Training Centre is located close to the tube station and there is free parking too
Description
Location of Training Centre
Product Description
GMAT Preparation
The GMAT (Graduate Management Admission Test) is a computer test which examines a learner's ability in certain skills such as analytical, quantitative, verbal and reading. This is used for Business Schools to be able to decide upon admissions for prospective students onto Graduate Management Programme's such as an MBA. The GMAT is administered by the Graduate Management Admission Council (GMAC).
Why take the GMAT Exam
The GMAT is accepted by over 6,000 business and management programs worldwide for almost 60 years. It is the exam of choice to be able to demonstrate your core abilities and provide your first big step towards a successful career.
Benefits of the GMAT Exam
• Required by most schools to enrol onto their Graduate Management Programs
• Has been used as a successful indicator of classroom competency for decades
• The test is available around the world and when you need to take it
Preparing for the GMAT Exam
Preparation is key for the GMAT as it tests on your competencies in the classroom rather than softer skills. Therefore you need to learn and understand:
• Verbal Reasoning
• Quantitative Reasoning
• Analytical Writing
• Integrated Reasoning
Preparation Methods
By far the most successful method for preparing for your GMAT is quite simply to study for the exam. To ensure you get the most of your study sessions, it is best to attend GMAT Preparation classes delivered via the National Skills Academy and delivered by the best trainers across the UK. The classroom sessions allow students to:
• Receive 25 hours of preparation classroom teaching delivered by the expert trainers
• Significant increase on your GMAT score
• Training sessions to fit around schedules, classes are available on the weekends, evenings, and normal working hours.
• Focussed training sessions, most training sessions last about 2 hours – research shows this provides you the best opportunity to take in the learning.
• Learning and understanding questioning and answering techniques in advance of the exam
• Ongoing trainer support
• The ability to gain entry onto your chosen School by giving you the best chance of achieving your required GMAT score.
How can I book?
You can book for your GMAT Preparation class in the following ways:
• Online, please search the date options above and book on to secure your place
• Phone, please call 020 3457 7974
I have some further questions
Please call us on 020 3457 7974 if you have any queries and our dedicated GMAT co-ordinators will be on hand to help.