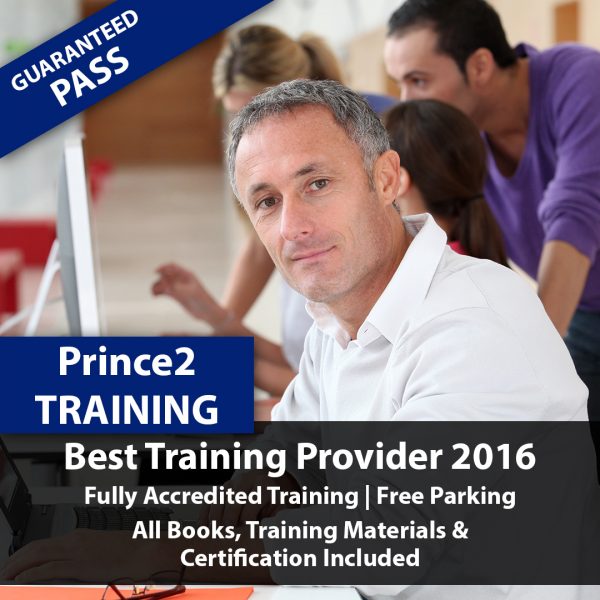 Prince2 Practitioner Training Course in London
This 2 Day PRINCE2™ Practitioner Course is suitable for those who have already completed their PRINCE2™ Foundation Training
It is widely recognised both in the UK and abroad as the Project Management Qualification
GUARANTEED Pass Policy on this course
This PRINCE"™ Training course is held at our training centre in London Finchley Training Centre, there is Free Parking available as well as being very close to the Tube Station (Northern Line).
We can also deliver this Training at your workplace if there are 4 or more candidates
If you prefer just to secure your place today and pay later, you can place a £50 deposit by calling 020 3457 7974
Description
FAQ's
Location of Training Centre
Product Description

Course Programme
Prince2 Practitioner
By completing the PRINCE2 Practitioner qualification you will have been trained on how to apply the PRINCE2 methodology to a work scenario and any project.
This is a 2 day classroom based training, which has to be taken after completing the PRINCE2 Foundation course.
Entry Requirements
The PRINCE2 Practitioner course is open to those candidates who have successfully completed their PRINCE2 Foundation training.
Pre-course reading
We will send you a pre-course workbook of reading material and exercises which will help introduce the concepts of PRINCE2.
Course Materials
All candidates are provided the official Managing Successful Projects with PRINCE2 course manual and pre-course material as well as all in classroom training material, aids and assistance.
Course Content and Overview
Principles of PRINCE2 training
Business case theme
Organisation theme
Quality theme
Plans theme
Risk theme
Change theme
Progress theme
Starting up a project process
Directing a project process
Initiating a project process
Controlling a stage process
Managing product delivery process
Managing a stage boundary process
Closing a project process
Tailoring to PRINCE2 project management
The PRINCE2 Practitioner exam:
The PRINCE2 Practitioner Exam focuses on the ability to apply PRINCE2 to a scenario
You are required to get 55% to pass
You get 2 and a half hours for the exam
What is included in my course fee?
The following is included in your course fee:
Official Managing Successful Projects with PRINCE2 Manual
Courseware folder, including presentation slides and assistance
Official PRINCE2 Certification
Full support
Real life examples to make the training relevant
Value for money
Tutors
We are accredited and approved by Axelos and Peoplecert to deliver your PRINCE2 Training. We work with only those trainers who have significantly delivered to a high standard over a number of years and receive exceptionally positive feedback.
In House Training
This class is also available on what is known as in house training. We are able to arrange a trainer to come to your company premises to deliver the class on dates of your choosing. Please contact us for further details if this is a suitable option.
Please note minimum class size for the Prince2 Foundation & Practitioner is 4 students.
What is the structure of the exams?
The Foundation exam is a multiple choice exam that consists of 80 questions. You get 60 minutes to complete it. The Practitioner exam focuses on your ability to apply PRINCE2 to a given scenario. You have 80 questions for this exam and get two and a half hours for this exam.
What is the pass mark for the exams?
For the Foundation exam you are required to get 35 marks out of 70 which is a total of 50%. For the Practitioner exam you're required to get 44 marks to pass which is a total of 55%.
Are there any entry requirements for the PRINCE2 course?
The PRINCE2 course is open to all candidates who would like to take up the course. There are no prerequisites for this course.
Is PRINCE2 globally recognised?
The PRINCE2 programme is internationally recognised as being the most popular Project Management course. It has been taken by over 1 million people in the world and used both in the public and private sector globally.
What can a PRINCE2 certification do for me?
Successfully completing this course will increase your employability as it shows employers you have the knowledge and skills to successfully run a project that is suitable for a range of industries. It also will give you the confidence to control and organise a project from beginning right to the end.
Is PRINCE2 suitable for my project?
The skills you learn from the PRINCE2 course is applicable for all project managers in all working environments. The course is aimed for projects managers working in any organisation or anyone who aspires to take up project management. The skills you learn can be used in the industry of your choice.
How long are PRINCE2 certifications valid for?
The PRINCE2 Foundation certification doesn't have an expiry period. If you successfully complete the PRINCE2 Practitioner exam you're recognised as a 'PRINCE2 Registered Practitioner'.  This status will remain registered for a period of five years. You will then need to complete and pass the PRINCE2 re-registration exam to maintain the Practitioner status.
Does the course include the exams?
Yes, by booking yourself in for a course with us you will have the chance to complete the Foundation and the Practitioner exams without any additional fee.
What time should I arrive for my course?
Your course will start at 9am. We recommend you get there at 8:45am
If I have any questions how can I get in contact?
Give us a call on 020 3457 7974 and we can answer any unanswered questions you have about the PRINCE2 programme.